Khua Kling, also known as "Kua Kling" or "Khua Kling Moo," is a traditional Thai dish with roots in Southern Thailand. It is a spicy and flavorful dish that is popular among Thai food enthusiasts who enjoy the intense heat and bold flavors.
Prep Time30 minsCook Time10 minsTotal Time40 mins
Ingredients
Southern Thai curry paste
1
tsp
galangal powder
(you can also use fresh)
1
tsp
lemongrass powder
(you can also use fresh)
½
tsp
turmeric powder
(you can also use fresh)
Sauté
45
g
southern thai curry paste
(you can also use commercial paste)
225
g
minced meat
(chicken, pork or beef)
...add
10
thinly sliced lime leaves
15
g
sliced lemongrass
(or substitute by spring onion)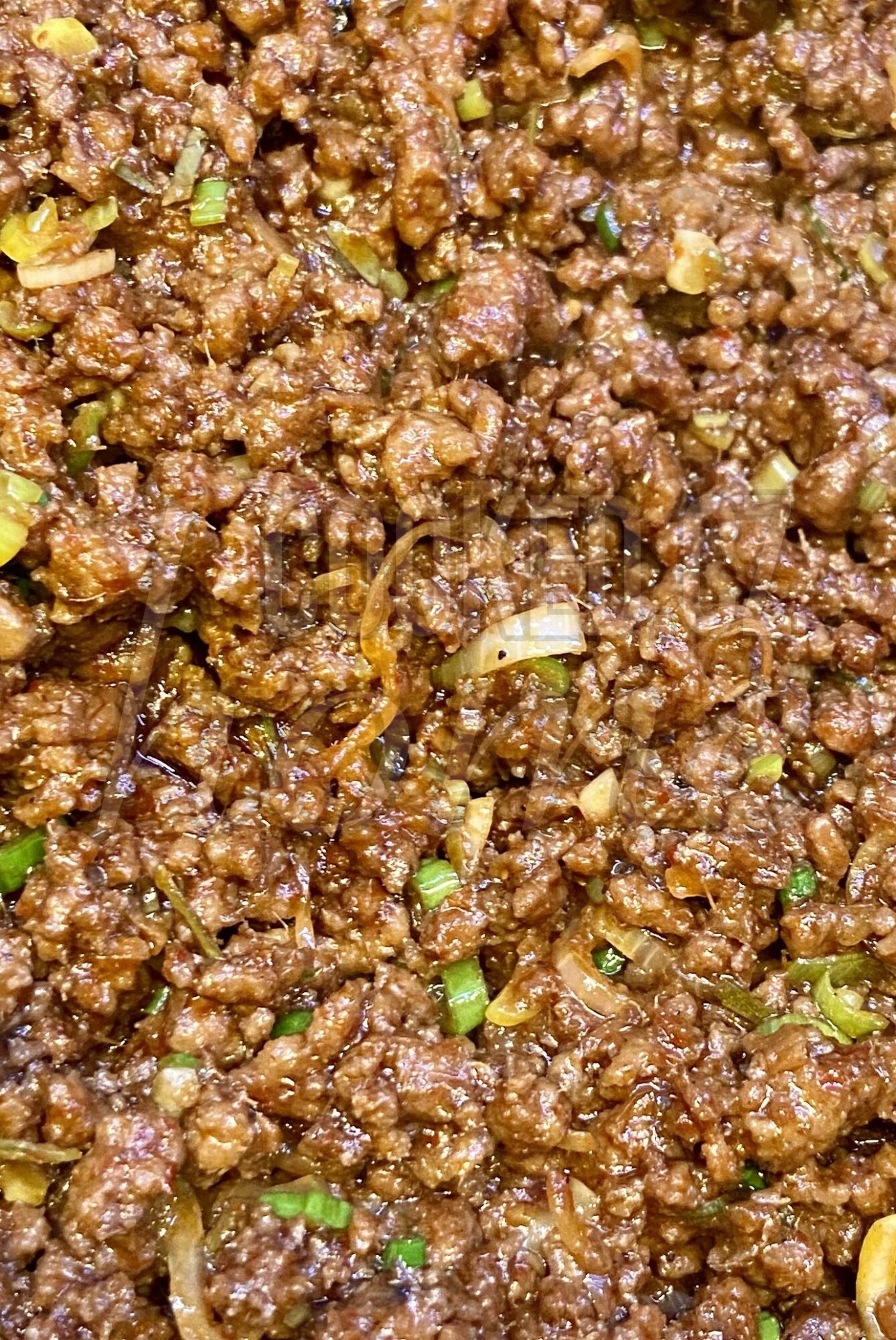 The exact origins and history of Khua Kling are not well-documented, but it is believed to have originated in the southern region of Thailand, particularly in the province of Pattani. The dish is strongly associated with the cuisine of the Muslim community in Southern Thailand, known as the Malay or "Pattani" people.
The dish is prepared by first pounding the spices together to create a paste or "khua" in Thai. The paste is then fried in oil until fragrant, creating a rich and aromatic base. The minced or ground meat is then added and stir-fried with the spice paste until cooked through, allowing the flavors to meld together.
Inspired by this recipe.
Directions
1
Heat up wok and add oil.
Fry the curry paste until fragrant stirring frequently.
Add mince of your choice cook on high stirring frequently.
Cook on high until meat starts to fry and looks dry.
Lower heat and incorporate sugar, fish sauce and lemongrass.
Cook for about 30 seconds until all incorporated.
Serve immediately over cooked jasmine rice.