Prep Time30 minsCook Time5 minsTotal Time35 mins
Ingredients
Blanch
Sauce
1
tbsp
doubanjiang
(chilli bean paste)
Sauté
½
tsp
sichuan peppercorns
(ground, or sichuan peppercorn oil)
previously prepared sauce
...add
2
dried chilies
(optional)
...deglaze
...thicken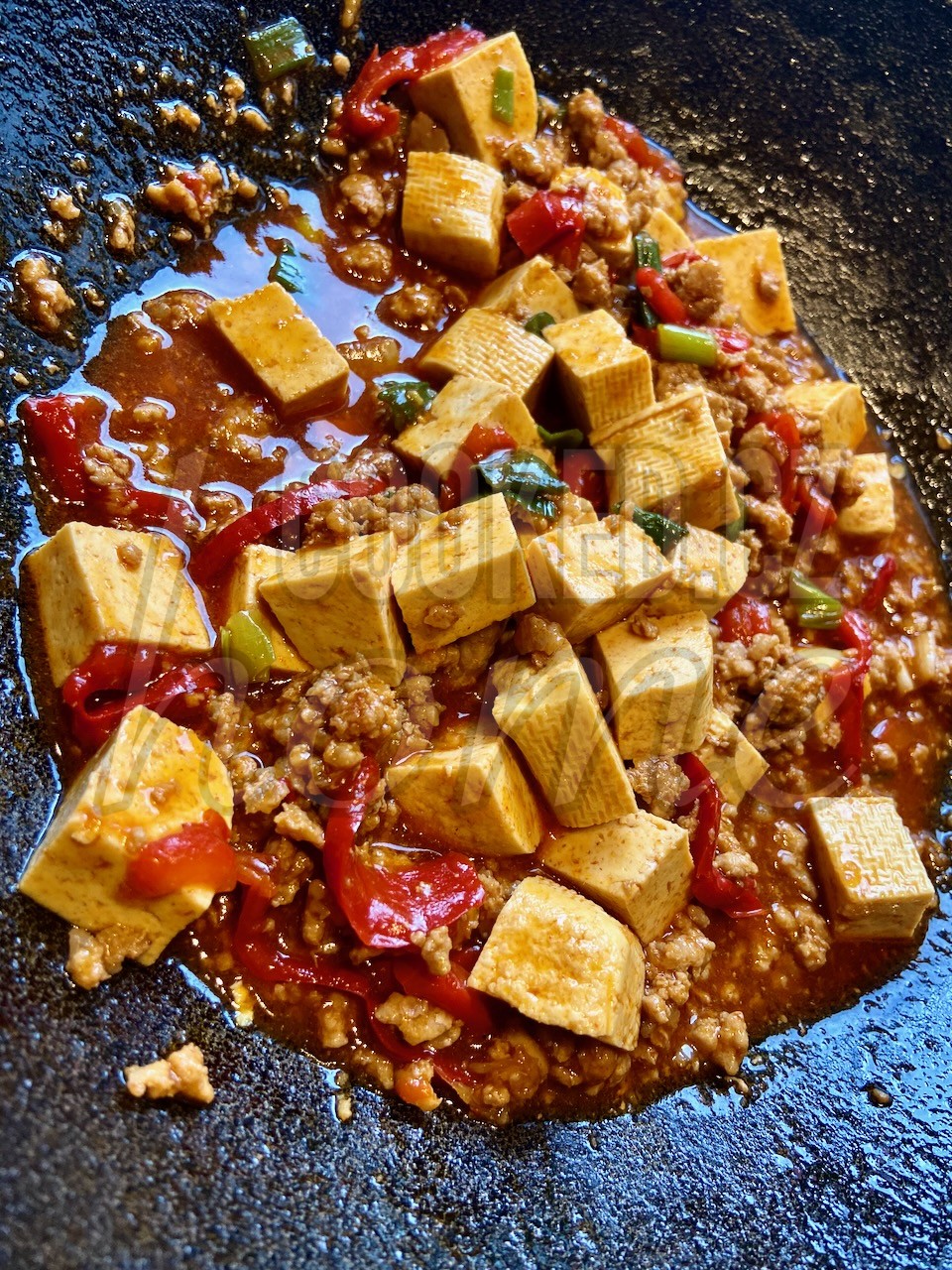 The history of Sichuan Mapo Tofu dates back to the Qing Dynasty in the late 1800s. The dish was created by a woman named Chen Mapo, who was the owner of a small restaurant in the Sichuan province. Chen Mapo was known for her delicious tofu dishes, and she created Sichuan Mapo Tofu as a way to use up leftover ingredients and satisfy her customers.
The name "Mapo" comes from Chen Mapo's nickname, which means "pockmarked old woman" in Sichuanese dialect. Legend has it that Chen Mapo was known for her pockmarked face, but her tofu dishes were so delicious that people continued to flock to her restaurant despite her appearance.
The dish quickly became popular among locals and eventually gained a reputation as a regional specialty. Chen Mapo's restaurant became famous for its Mapo Tofu, and other restaurants in the area began to emulate her recipe.
Directions
Preparations
1
Cut the bell peppers into small pieces.
Finely chop a small knob of ginger.
Square the tofu and blanch in boiling water. Set aside.
Prepare the sauce.
Sauté
2
To a wok, add the vegetable oil or chili oil. Heat it over medium heat.
Add the ground pork. Break up the pork and cook until no longer pink.
Incorporate green onions, ginger, and garlic, sichuan pepper. Saute for 30 seconds or until fragrant.
Increase the heat to high. Pour in the sauce. Stir it around for 30 seconds.
Add the bell peppers and stir-fry for another 1 minute.
Add the dried chilies (if using) and quickly stir-fry until most of the liquid has evaporated.
Deglaze
3
Add the chicken stock and bring it to a boil.
Add the drained tofu and vinegar. Let it continue to boil for 2-3 minutes.
Thicken
4
Whisk the cornstarch slurry. Add it to the boiling sauce and gently stir it around until the sauce is thickened.
Drizzle with the sesame oil and give it a final mix.
Garnish with green onions. Serve over the rice.