Prep Time20 minsCook Time30 minsTotal Time50 mins
Ingredients
Blanch (5min)
500
g
boneless pork belly
(cubed, without skin, can be fronzen)
Sauté
1
green or yellow onion
(squared)
Braise
water
(just to cover pork)
Garnish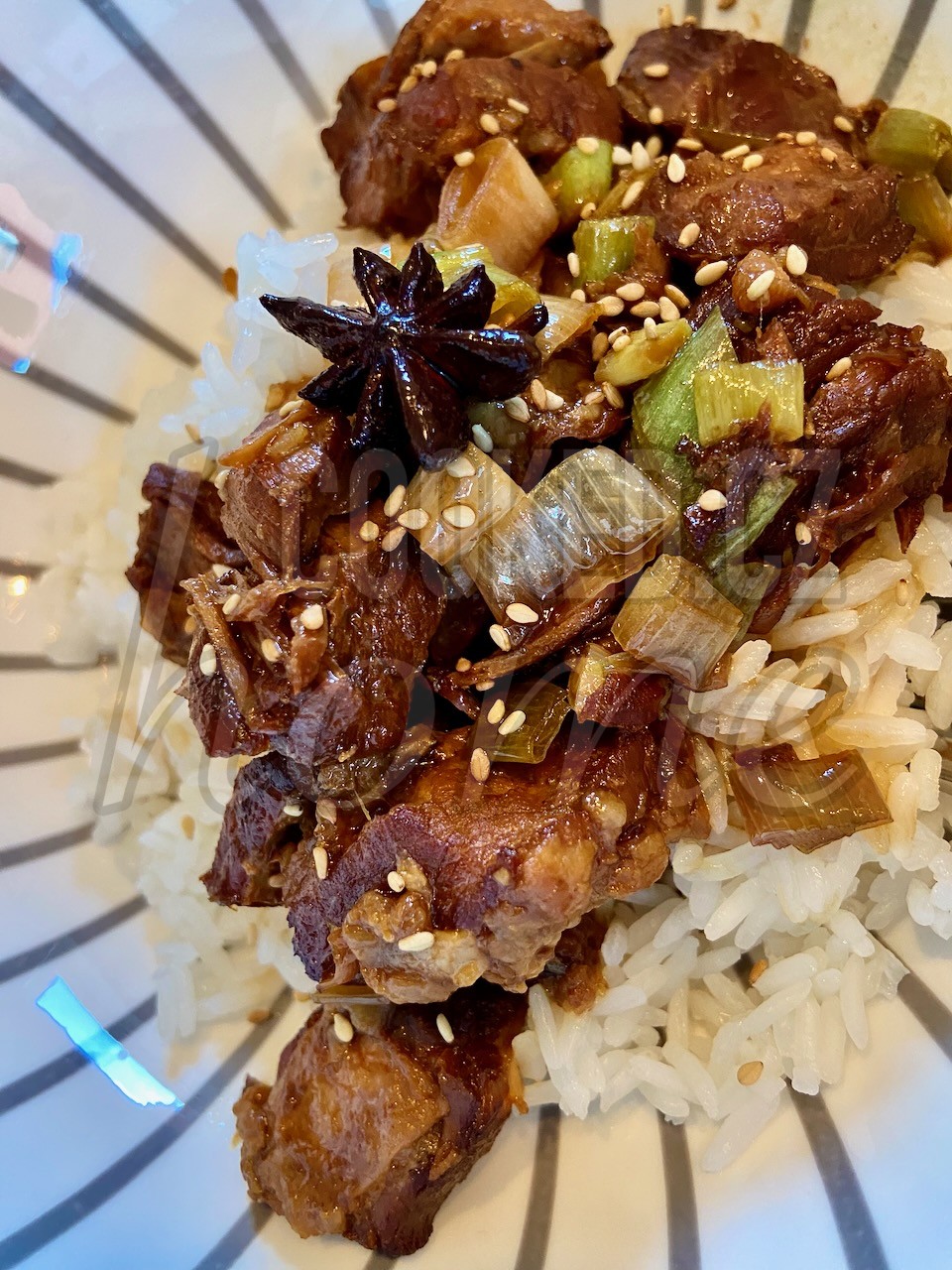 Hong Shao Rou (红烧肉) is a popular Chinese dish. Literal translation of the dish is red braised pork. Essence of this recipe is braising pork in soy sauce and sugar, which gives the sauce a glossy caramelized finish. The dish originates from the Chinese province of Hunan, but nowadays it is associated with Shanghai. It was favorite dish of Mao Tse-tung, the founding father of China, and it is often referred to as Chairman Mao's red braised pork. This recipe is inspired by this website, some procedures inherited from this website.
Directions
Blanching
1
This recipe works great from frozen, just blanch frozen meat and then cut it to larger cubes.

Traditionally this recipe is cooked with skin on. I'm don't like skin so I tend to remove it.
Bring pot of water to a boil, add Sichuan pepper corns and pork.
Continue to cook for 5 minutes, to get rid of impurities and odd taste.
Remove pork from pot, rinse with water. Cut pork in to larger cubes.
Sear
2
Set your slow-cooker on sear and heat the oil.
Add blanched pork, onion and sear until gold and brown.
Now add the sugar and soy sauce and sauté until sugar has caramelized.
Deglaze the pot with Shaoxing wine.
Braise
3
Add anise, cinnamon, citrus peel, ginger and vinegar.
Top up with the water just enough to cover the pork.
4
Stovetop method
Simmer for 1 hour until the pork is tender.
Slow cooking method
Slow cook on LOW for at least 11 hours or HIGH for 5 hours.
Pressure cooking method
Pressure cook on 80kpa for at least 20 minutes with Natural release.
Reduce
5
Remove pork from the pot, strain the liquid to remove all solids.
Reduce the strained sauce and then return pork back to the sauce.
Serve on top of the rice, garnish with green onions.
6