Quiche Lorraine is a savory pie that originates from the Lorraine region in northeastern France. Its history is deeply rooted in German and French culinary traditions, and its evolution has spanned centuries. The word "quiche" is derived from the German word "kuchen" which means cake. The earliest versions of the quiche can be traced back to medieval Germany. The original dish was made using bread dough as a base, filled with a mixture of eggs, cream, and meat. As the dish made its way to the Lorraine region of France, it became popularized as "Quiche Lorraine." In its traditional form, it was made with a base of puff pastry filled with a creamy mixture of eggs, cream, and smoked bacon or lardons. Cheese was not originally a part of the classic recipe.
Prep Time30 minsCook Time30 minsTotal Time1 hr
Ingredients
Sauté
1
zucchini or pumpkin
(squares)
Filling
200
ml
whipping cream
(or cooking cream, or half cream half whole fat milk)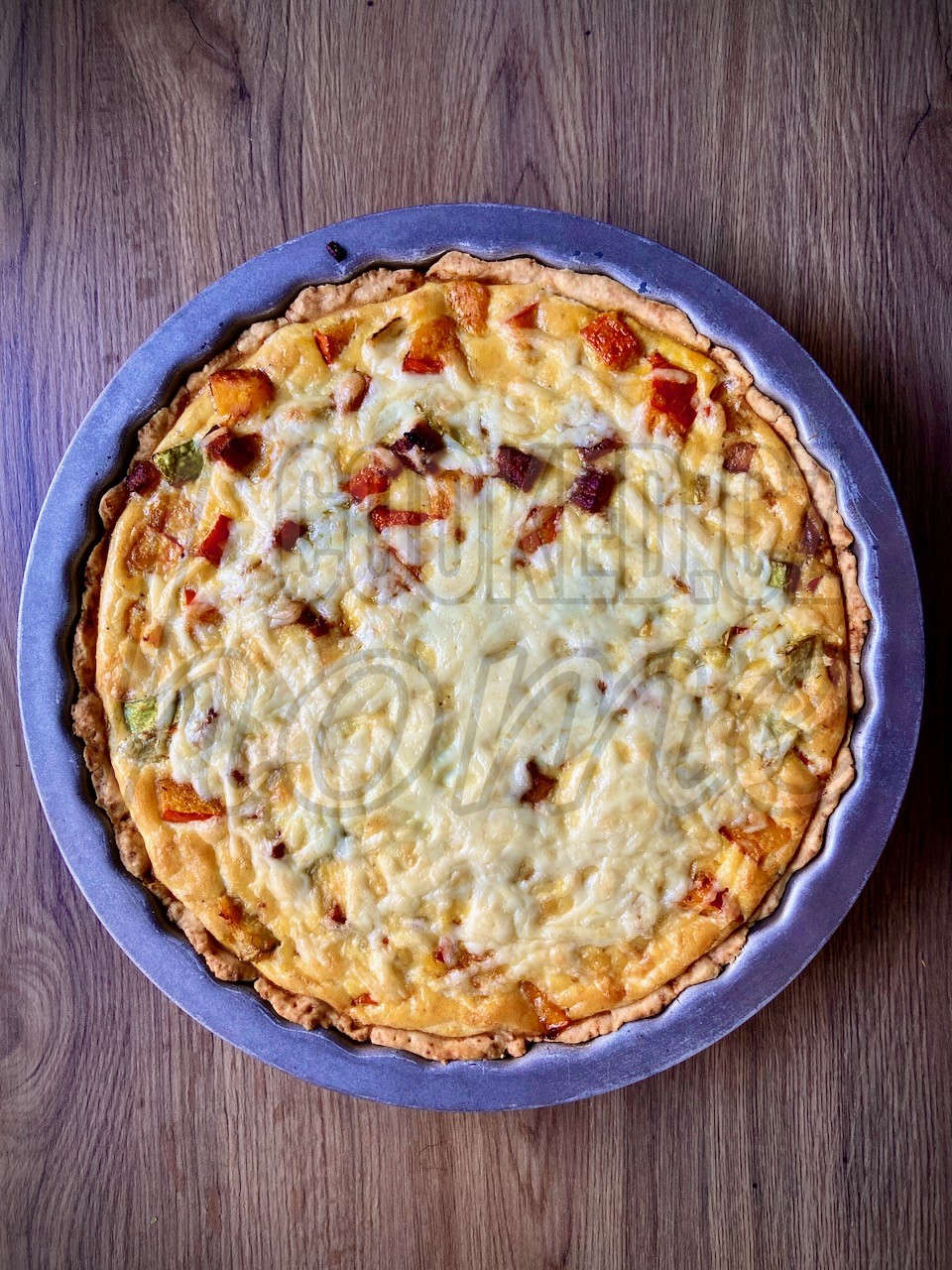 Directions
Shortcrust
2
You can make it in advance.
Sauté
3
Dice the bacon and vegetables.
Sauté bacon, till fat has released and sufficiently browned.
Sauté the vegetables until its softened and has color.
Filling
4
Prepare your liquid mixture my combining all ingredients in the bowl.
Whisking briefly to combine well.
Set all aside.
Pre-cooking pastry
5
Preheat oven to 200C.
Pull out the chilled dough straight from the fridge.
Roll to a 3mm thin round sheet to fit the baking tray.
Fit the dough in to the baking tray and trim excess.
Place baking paper over dough and load pie with baking weight.
Place dough in the preheated oven for 8-9 minutes until pastry is set.
Pull out the tray from the oven and remove baking weight.
Prick the bottom of the pie with fork and return to oven for 2-3 minutes.
6
Use fake bottom baking tray. Do not use any oil on the tray, dough is fatty enough it will not stick.
You can use white beans as baking weight. Don't toss them in the trash after! It can be used in baked beans recipe.
Baking
7
After you have precooked your pastry pull it out of the oven.
Lower the temperature of the oven to 190C.
Introduce bacon with vegetables and spread evenly.
Pour over the the liquid filling till the edge.
Return to oven for next 30 minutes.
Serving
8
Remove the pie from the oven and place on wire rack.
Cool down in the tray for approximately 10 to 15 minutes..
Remove mold by placing pie over the tall pot.
Push sides of the mold down, it should come of easily.
Slice and serve.
9
This recipe is based on Quiche Lorraine recipe by Julia Child.
Over the years, various adaptations of the quiche emerged. Cheeses like Gruyère became popular additions, and variants like Quiche Alsacienne, which added onions, came into being. Today, quiche has diversified immensely with ingredients such as mushrooms, spinach, salmon, and more being incorporated into recipes worldwide. After World War II, the popularity of Quiche Lorraine began to spread beyond the borders of France. By the 1950s and 1960s, it had become a well-known dish in the United States. It was often perceived as sophisticated and gourmet, making it a staple in upscale American restaurants and cafes.